It's already the end of January, and even if I didn't post much, I haven't been idle this whole month. I read a couple of books on my way to university in the morning and on my way home (the metro is a surprisingly good place to read one you've got your schedule figured out and know when your stop arrives), so here are 4 short reviews of those metro books.
Lagom, by Linnea Dunne
It was interesting to learn about the philosophical aspects of Lagom, the swedish word that roughly translates to "not too little, not too much", and the illustrations in this book were pleasing to look at. I didn't feel extremely engaged into the rest of the content itself, though, as some parts seemed to completely miss their target – a recipe for cinnamon buns can be found in a cooking book, and I'm not sure I'd ever use any of the food recipes / advice mentioned in there.
Still, it's a pleasant read, and it looks very nice as a coffee table book, or as a Christmas / Birthday gift for someone you're not extremely close to.
Find this book on Goodreads
How to become a straight-A student, by Cal Newport
This is a book for students who'd like to change their study habits from cramming everything the night before the exam to being able to relax and do other things than pull all-nighters whenever a big paper is due.The author goes over success studying strategies of various straight-A students, and explains a bit more about why they work, and how to improve your own study habits. It's instructive, practical, solid advice. I knew most of these techniques already, but still learned some things about organisation and university readings, and didn't see any methods that I'd tried that had failed to yield any good results.
Bonus : the Cheat Sheets at the end of each part of the book are useful if you want to read it quickly, or just get to the point of the different methods.
Find this book on Goodreads
Dot journaling : a practical guide, by Rachel Wilkerson Miller
If you're completely new to bullet journals, this is the book for you. If you're not, you won't learn much more than what you already gathered by looking at bujo hashtags on Instagram. It goes over the basics, then shows you a few different ways to make the main types of bullet journal page layouts – monthlies, weeklies, etc. It might be a nice gift for someone who'd be interested in the crafts aspect of bullet journaling but doesn't have social media accounts – but not for anyone with access to Instagram or Pinterest.
Find this book on Goodreads
Healthy as F*ck, by Oonagh Duncan
I had absolutely no idea who Oonagh Duncan was when I picked up this book, and honestly, even though some of the advice she gave was pretty good, it just wasn't memorable enough for me to actually go and check out what else she had to say on the subject. It's full of logical advice on how to eat healthy, exercise, be more active… but most of that is common sense and can be found in any non-diet book about nutrition, or "how to go to the gym for the first time".
Find this book on Goodreads
This has been part of my January so far – I've been trying to read backlist books (books published before 2019) for the Pondathon organized by CW @ the quiet pond ! Since my character is in team Gen, three out of four of these books fit in the description, but only two were read during the Pondathon so far – I'm looking forward to some more backlist books reading soon !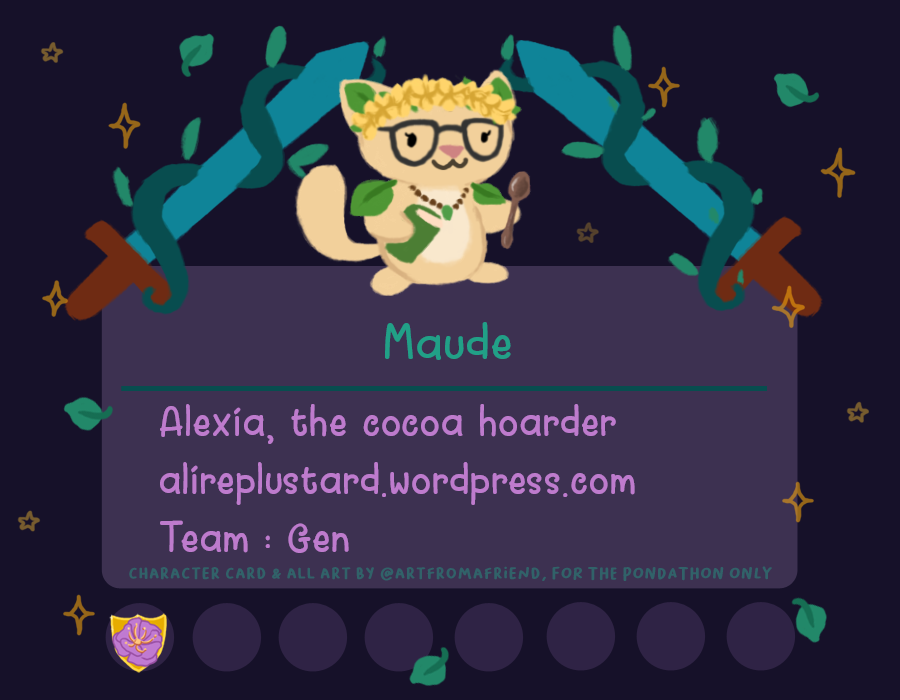 I even successfully completed the first side quest, which gave me a really cute badge to add to my character card – CW's art for this readathon is really beautiful !